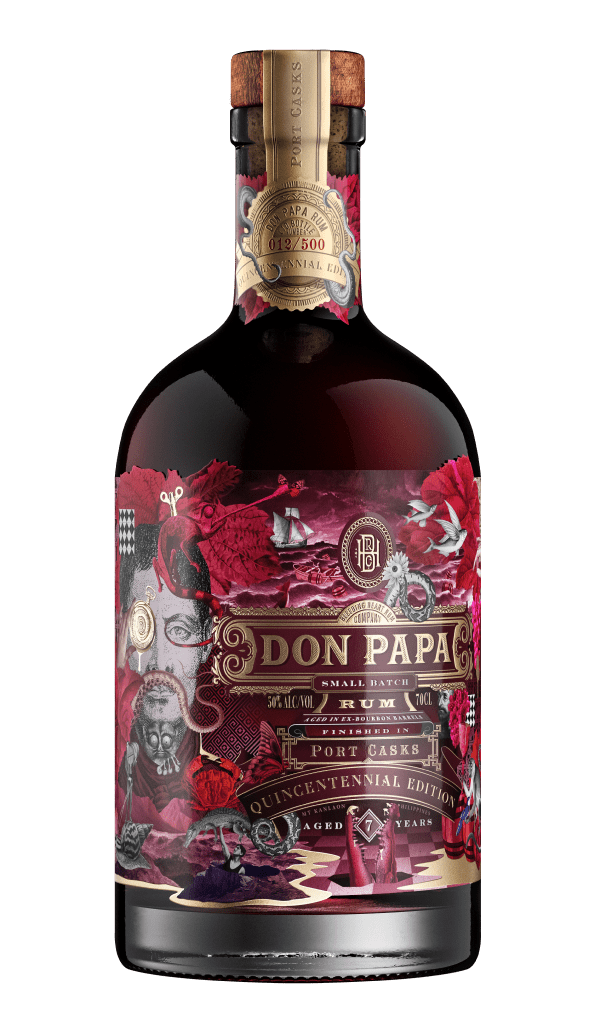 DON PAPA RUM
PORT CASK QUINCENTENNIAL EDITION
AGED IN EX-BOURBON AMERICAN OAK AND FINISHED IN PORT CASKS . 50% AVB
SPECIAL LIMITED EDITION RELEASE
A one-off Quincentennial Edition of the original Don Papa Port Cask, uniquely bottled at a higher 50% ABV. This liquid was originally released to commemorate the quincentenary of the earth's first circumnavigation - an epic voyage ultimately leading to the landing by the Spanish in the Philippines. Only 500 individually numbered bottles of this super premium rum is available globally.
Port Cask Quincentennial Edition is presented in an exclusive gold foil clam shell canister with intricately detailed surrealist design.
TASTING NOTES
Colour: Light amber with hints of red
Nose: Resonant, deep notes of liquorice, polished oak, dark chocolate and muscovado sugar arrive first, followed by zesty blood oranges, ripe red berries, and a subtle note of fresh vanilla pods.
Mouth: Rich and mouth-coating with huge complexity. Notes of toasted oak, cinnamon, arabica coffee and toffee are beautifully balanced alongside a fresh vanilla sweetness, some subtle freshly picked orchard fruit, and a dusting of brown sugar.
Finish: Exceptionally long, lingering, and dry - with fading echoes of dark cacao powder and hints of dried figs.
Available in Select Markets